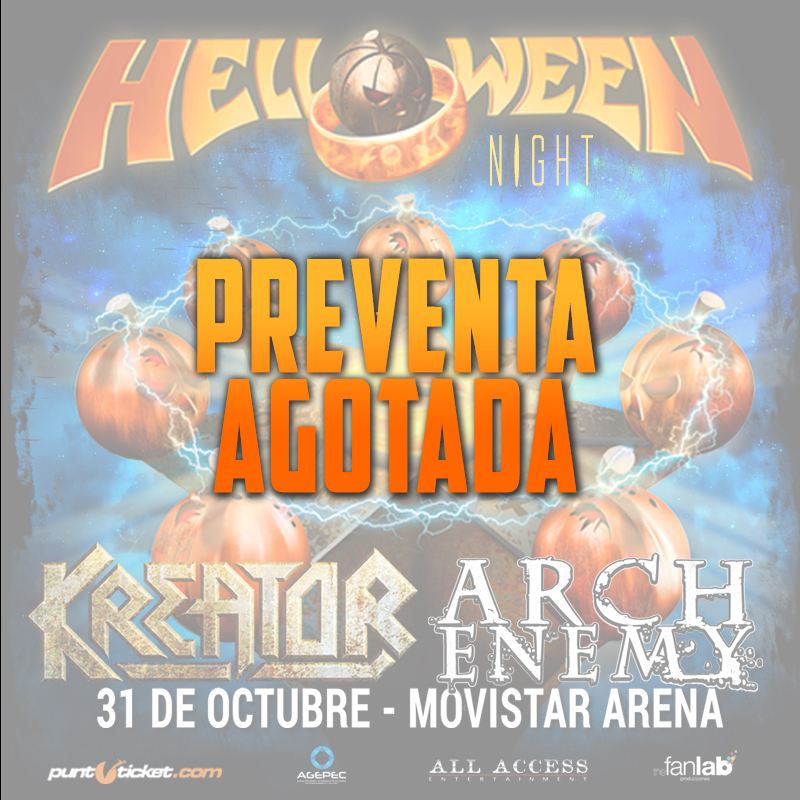 La noche de estos tres monstruos del metal juntos será en grande. En pocas horas los fans despacharon todas las entradas disponibles en preventa. Helloween Night del 31 de octubre en el Movistar Arena es un hito que no se repetirá y del que nadie (ahora sí) puede quedar fuera.
El Halloween más Halloween y más metalizado de todos los tiempos se vivirá este 2018 en Santiago de Chile: a pedido del público, vuelve el grupo alemán Helloween a nuestro país, con la reunión de sus integrantes históricos, para presentarse nada menos que la mismísima noche de Halloween, el miércoles 31 de octubre, acompañados de dos pesos pesados del metal mundial: Kreator y Arch Enemy.
Lo harán dando el concierto más grande de todos los que han realizado hasta la fecha en suelo nacional, en el Movistar Arena, después que el año pasado agotaran en tiempo récord dos fechas en el Teatro Caupolicán, para el primer tramo de su espectacular tour de reunión Pumpkins United, que ha girado con éxito por el mundo durante todo el último año.
Esta es la gira que marca el regreso del vocalista Michael Kiske, con quienes inmortalizaron sus fundamentales discos "Keeper of the seven keys" en los 80; y del guitarrista y vocalista Kai Hansen, líder y pieza esencial de esos años. Se suman a la formación actual de Helloween, encabezada por el vocalista Andi Deris, el histórico guitarrista Michael Weikath y el igualmente histórico bajista Markus Grosskopf, más Sascha Gerstner en guitarra y Dani Löble en batería.
Tres vocalistas, tres guitarristas y canciones de todas las etapas de la banda, sobre todo de la más clásica. Los shows del año pasado en el Teatro Caupolicán resultaron tan apabullantes y emotivos y dejaron a tanta gente afuera sin alcanzar a adquirir su entrada, que el clamor popular ha hecho que Helloween vuelva para darle en el gusto no sólo a los que se quedaron fuera esa vez, sino a los que quedaron tan maravillados que quieren repetirse el plato.
Por eso llegan ahora a un recinto más grande, ganado con creces. Una movida que recuerda lo que pasó con Iron Maiden a fines de la década anterior, cuando colmaron la Pista Atlética del Estadio Nacional y el inevitable paso siguiente fue llegar a recintos de mayor capacidad. El poder del heavy metal se siente una vez más.
Entradas a la venta en Puntoticket y puntos habilitados en Hites y Cinemark que puedes revisar aquí: https://goo.gl/SahbQE
(Visited 10 times, 1 visits today)