O renomado grupo irlandês/norte-americano Flogging Molly, um dos mais influentes e respeitados do gênero Celtic Punk da história, está de volta a América Latina, após seis longos anos de bombástica e bem-sucedida apresentação de estreia.
Com realização da Liberation Tour Booking, Dave King (vocal/guitarra), Bridget Regan (fiddle, tin whistle), Dennis Casey (guitarra), Matt Hensley (acordeom), Nathen Maxwell (baixo), Bob Schmidt (bandolim/banjo) e Mike Alonso (bateria) trazem a turnê promocional do seu mais novo aclamado álbum "Life is Good" especialmente para três cidades do Brasil: Curitiba (05/10 – Hermes Bar), São Paulo (06/10 – Carioca Club) e Rio de Janeiro (07/10 – Circo Voador). Ainda há ingressos à venda para as apresentações nas três capitais. Mais informações no serviço abaixo.
Dono de clássicos como "Drunken Lullabies", "Devil's Dance Floor", "What's Left of the Flag", "The Seven Deadly Sins", "If I Ever Leave This World Alive", "Float", "Requiem for a Dying Song", o Flogging Molly conquistou enorme e fiel número de seguidores em todo o mundo com a sua peculiar sonoridade Celtic Punk ou punk rock com raízes irlandesas.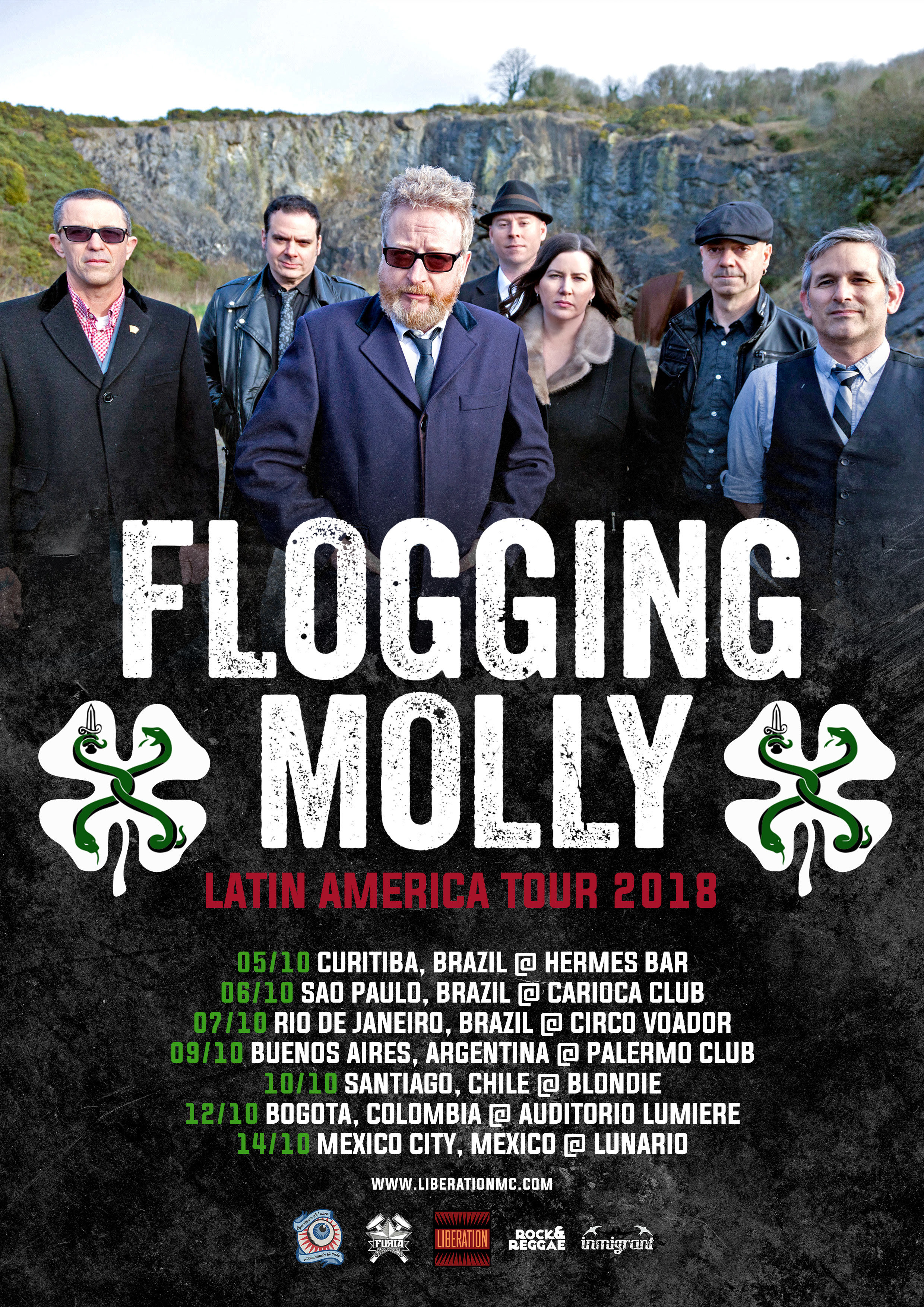 A  consciência social e política que sempre impulsionou a música do Flogging Molly nunca foi tão proeminente para retratar o lançamento do novo álbum "Life is Good" (Vanguard Records). Esse é o trabalho mais forte o grupo até o momento, destacando a meticulosa maneira de contar histórias e com arranjos cada vez mais ferozes. "Life is Good" é o sucessor de "Speed  of  Darkness", que atingiu a 9ª posição no Top 200 da Billboard.
Formado em 1997 pelo cantor irlandês Dave King, o Flogging Molly ficou famoso pelos intensos shows ao lotar casas da América do Norte, Europa e Ásia. A sonoridade é ainda influenciada por artistas como Stiff Little Fingers, The Pogues, The Clash, Swinging Utters, Cockney Rejects e Cock Sparrer.
(Visited 25 times, 1 visits today)