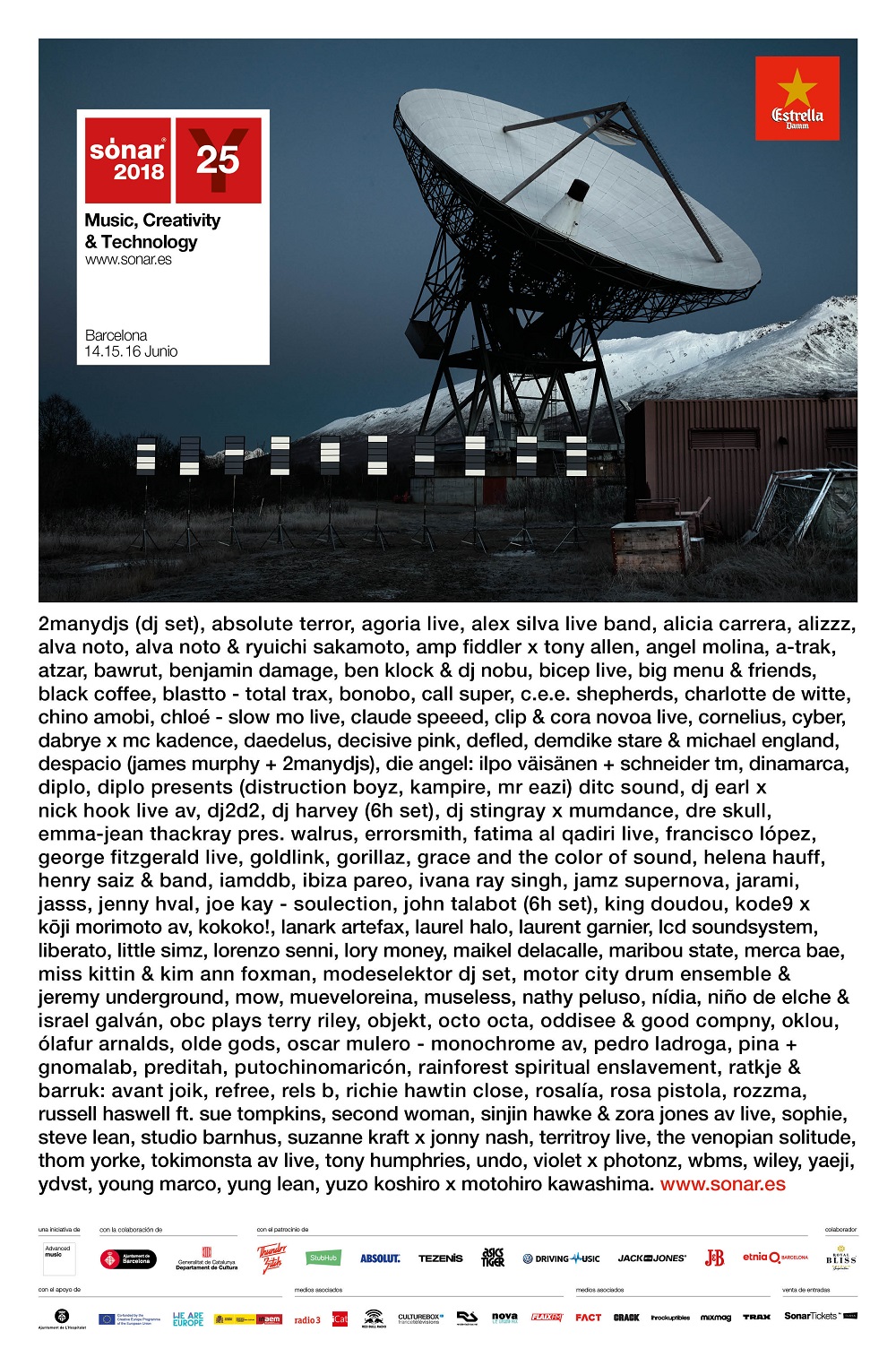 The extraordinary club experience that is DESPACIO will be the core of the celebrations of the 25th anniversary at Sónarby Day, with James Murphy (LCD Soundsystem) and brothers David and Stephen Dewaele (2manydjs/Soulwax) behind the decks. Together they will bring their high fidelity sound -with a spectacular soundsystem formed by 7 towers of circularly arranged speakers and amplifiers – to its maximum level with three, 6 hour DJ sets -one per day andstrictly vinyl only– where the music and the audience will take precedence over ego. 2manydjs, the Belgian brothers who over the years have been responsible for many of the festivals high points, will also be the stars of Saturday with one of their inimitable DJ sets of twisted, mixed, hits which will close Sónar by Day.
Alva Noto & Ryuichi Sakamoto will perform their new
piano, electronica and a/v 
show "Two" as  the closing concert of this year's festival, 
on 
Sunday, June 17
 at the
Teatre Grec
. 
Sónar
 2018 will be 
one of only three concerts in the world
 where you will be able to see both artists perform together this year.
A new breed of exceptional international artists are added to the program, such as Demdike Stare, who will provide an AV show with visual artist Michael England; up-and-coming DJ, singer and producer Yaeji; the new star of UK Urban IAMDDB; Los Angeles producer TOKiMONSTA AV Live presenting her new live AV show; Norwegian artistJenny Hval; as well as the enigmatic Liberato, the anonymous Neapolitan artist who has become a mass phenomenon in Italy and is rightly considered to be a new icon of the cultural renaissance occurring in Naples.
Also of note are renowned dj's Objekt, Young Marco andCall Super; a high flying duo formed by the internationally renowned electronic producer, singer and DJ Miss Kittin andKim Ann Foxman, a key figure of New York's house and techno scene.
Meanwhile, Red Bull Music Academy complete the SonarDôme stage program by adding Sophie, Rainforest Spiritual Enslavement (Dominick Fernow x Philippe Hallais x Silent Servant); Malaysian band The Venopian Solitude; the auspicious duos formed by Dj Stingray x Mumdance, Suzanne Kraft x Jonny Nash; the live show from Dabrye x Mc Kadence; French producers Chloé – Slow Mo live andOkLou; Spaniards Álex Silva Live Band and a pairing formed by Clip & Cora Novoa Live; Museless and Big Menu & Friends.
Sónar
 2018 aims to showcase the national scene's most interesting artists with performances from producer 
Alizzz
, one of Spain's best internationally recognised figures; 
Pina + Gnomalab
, who will present their powerful new  material with a an industrial slant; 
Olde Gods
, presenting their album "Gitanes"; 
Steve Lean,
 the figurehead producer of Spain's new urban and national trap sounds 
Lory Money
, the rapper of Senegalese origin with more than 12.5 million YouTube views; and DJ 
Alicia Carrera
, among many other artists.
In total, Sónar 2018 will feature more than 140 performances spread across 10 stages at Sónar by Dayand Sónar by Night, including previously announced shows from the LCD Soundsystem, Gorillaz, Thom Yorke, Diplo,Richie Hawtin CLOSE, Laurent Garnier, Cornelius,Rosalía, Modeselektor, Olafur Árnalds, Kode9, Bonobo,Niño de Elche with dancer Israel Galván, Laurel Halo,John Talabot and Lorenzo Senni.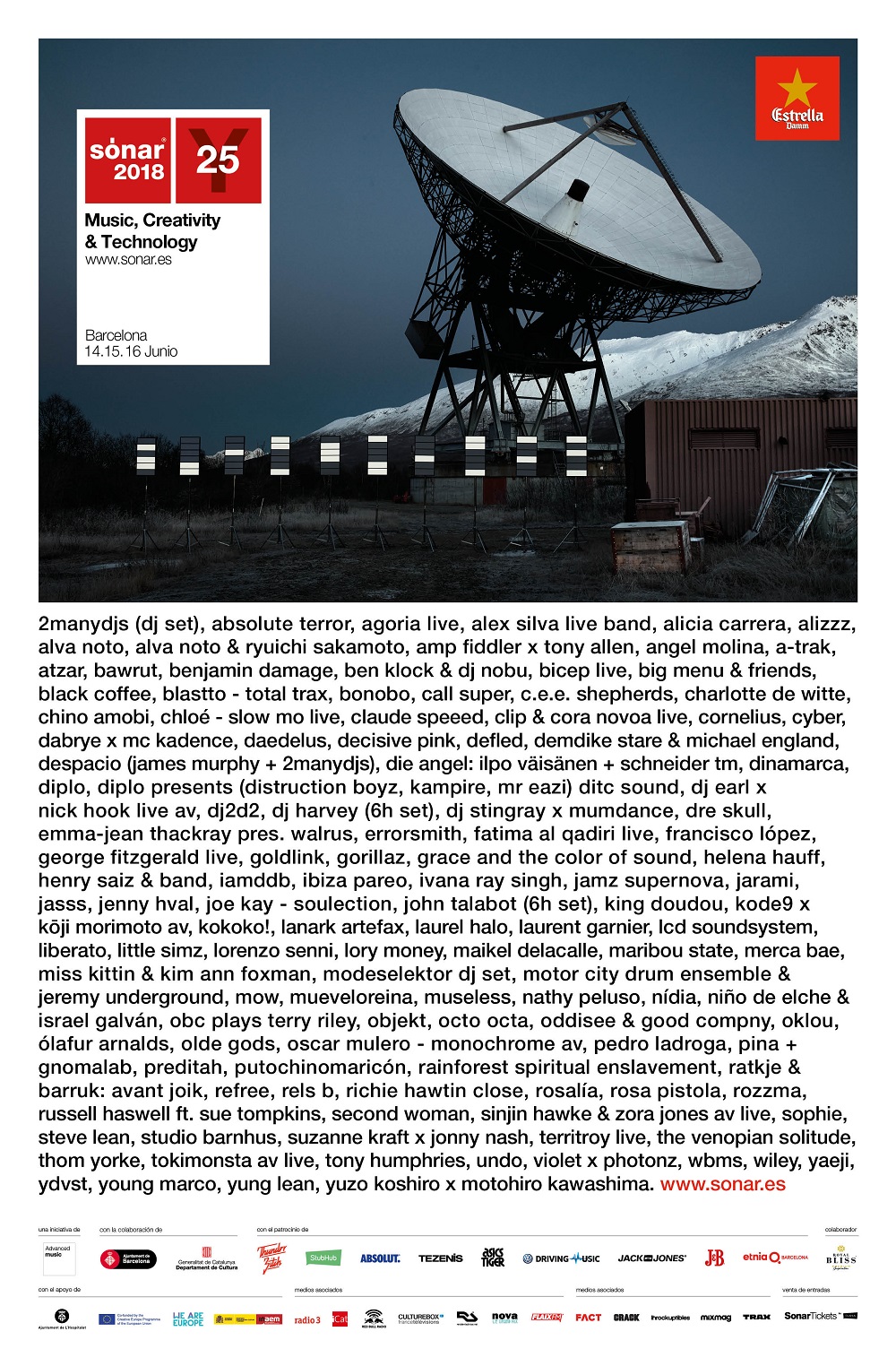 (Visited 28 times, 1 visits today)