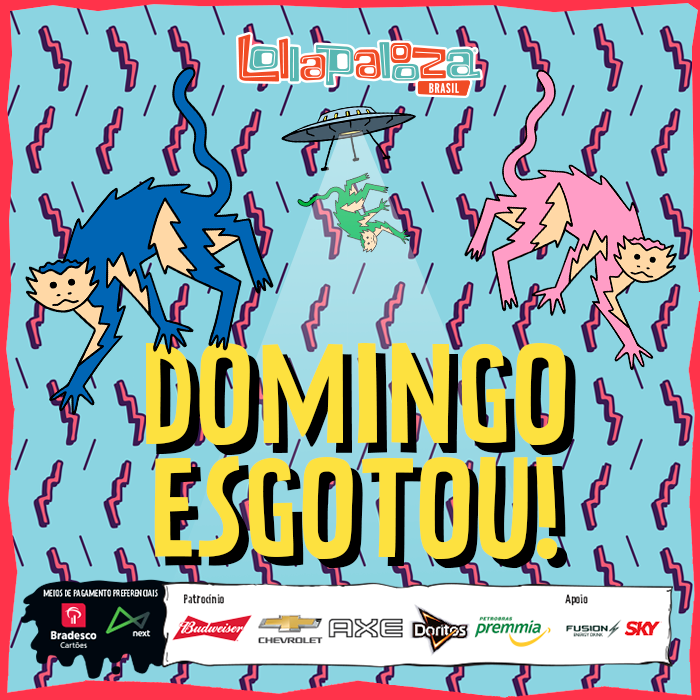 Mais um dia de Lollapalooza Brasil encerrou suas vendas. O festival soltou um comunicado oficial na noite de ontem (27) informando que os ingressos para o domingo, 25 de março, estão esgotados. Os artistas a se apresentarem nesse dia são: The Killers, Liam Gallagher, Lana Del Rey, The Neighbourhood, Khalid Wiz Khalifa, Hardwell, entre outros.
Se você ainda não pode adquirir nenhum ingresso mas ainda assim quer curtir o festival, os ingressos de sexta-feira, 23 de março, ainda estão disponíveis. Os palcos contarão com a apresentação de Red Hot Chili Peppers além de LCD Soundsystem, Royal Blood, Plutão Já foi Planeta, Vanguart, Zara Larsson, Mallu Magalhães, Alok, Galantis entre outros shows.
O sábado, 24 de março, com shows de Pearl Jam, Imagine Dragons, The National, David Byrne, Ego Kill Talent, O Terno, entre outros, foi o primeiro a ter as entradas esgotadas.
O Lolla Brasil será realizado no Autódromo de Interlagos, em São Paulo, e apresentará ainda side-shows com Anderson. Paak & The Free Nationals (no Cine Joia, dia 20/3), Liam Gallagher (no Audio Club, dia 21/3), Royal Blood (Cine Joia, dia 22/3), Zara Larsson e Oh Wonder (Audio Club, dia 22/3) e Tash Sultana (Air Rooftop, dia 22/3). O side-show do Royal Blood é o único já dado como esgotado.
Tudo sobre o Lollapalooza você encontra aqui!
(Visited 17 times, 1 visits today)