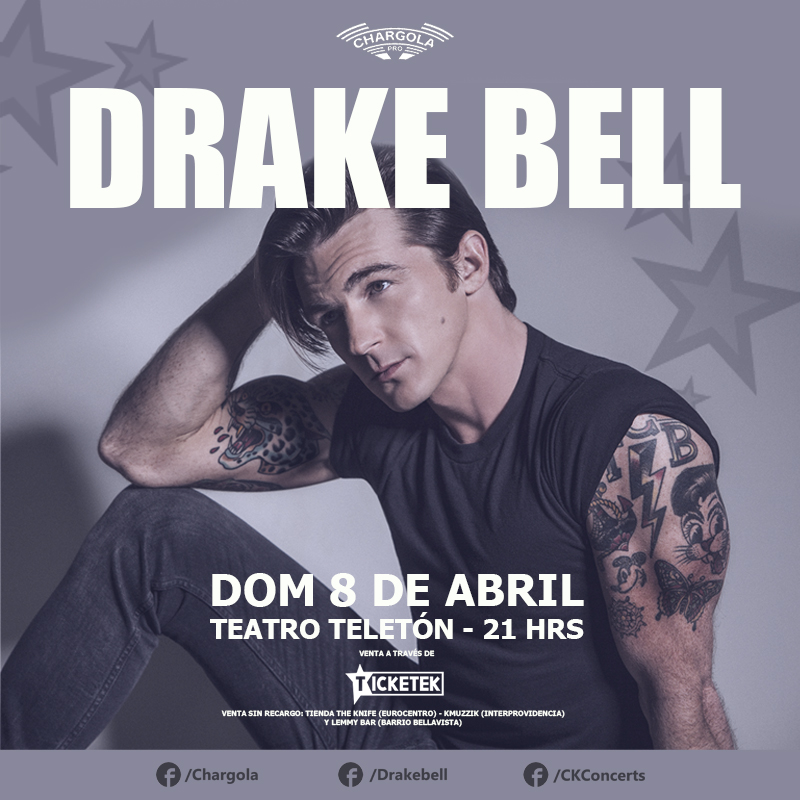 El actor,  músico y fenómeno en redes sociales estadounidense debuta en Chile el domingo 8 de abril en el Teatro Teletón, presentando su último disco y a poco de finalizar una exitosa gira por México.
Drake comenzó su carrera como actor a principios de 90s con sólo cinco años en la serie "Home Improvement" a la par de una serie de spots publicitarios (entre ellos para Pokemon) pero no fue hasta sus roles protagónicos en "The Amanda Show" y "Drake & Josh" y luego la trilogía "The Fairly OddParents" en Nickelodeon que Bell saltó a la fama conquistando un importante séquito de fans.  Luego siguió siendo la voz de Peter Parker en Spider-Man y en la serie animada Ultimate Spider-Man en Disney XD y en "Splash" de la cadena ABC.
Además de actuar, Bell tiene una carrera en la música que comenzó a principios de la década del 2000, junto a su rol en  "The Amanda Show", con su banda Drake 24/7. También coescribió e interpretó la canción principal de Drake & Josh, "Found a Way". En 2005, lanzó su álbum debut "Telegraph", lanzado bajo el nombre de Bell. Le siguió "It's Only Time" bajo el sello Universal Motown Records, debutando en el #81 en el Billboard 200, vendiendo más de 23 mil copias sólo en la primera semana. A la fecha supera las 200 mil copias en Estados Unidos.
El 2008 editó su primer DVD "Drake Bell In Concert" anotándose el #81 en el Top 100 Albums Chart. Ya el 2011 siguió con varios singles, entre ellos "A Reminder". En 2014, Bell lanzó su tercer álbum "Ready Steady Go!" bajo el sello indie Surfdog Records, también presente en el el Billboard 200. Este éxito quedó de manifiesto con la gira del mismo nombre (que incluyó México) y que se extendió por más de un año, agotando las entradas a los pocos minutos de salir a la venta. En paralelo ha seguido su carrera actoral con el estreno de la cuarta temporada de "Ultimate Spider-Man" en Disney XD y la película de 2017 "Bad Kids of Crestview Academy", una secuela de la película de 2012 "Bad Kids Go to Hell". Hoy realiza presentaciones promocionales para el recientemente lanzado EP Honest.
Valores:
Palco VIP, $ 50.000
Planta Baja Diamante, $50.000
Planta Baja Golden, $ 45.000
Platea Baja Lateral, $ 40.000
Mezzanine, $ 30.000
Palco Mezzanine, $ 30.000
(Visited 32 times, 1 visits today)