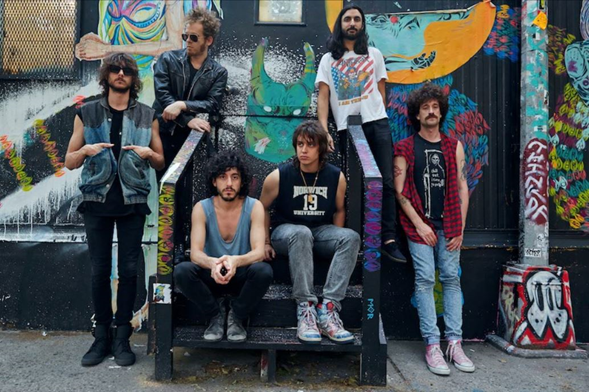 Después de dos años alejados de los escenarios, el proyecto en solitario de Julian Casablancas, The Voidz, formado en 2013 y perfilado hacia el rock experimental y psicodélico, regresa con una serie de presentaciones en Latinoamérica, mientras a la par preparan el sucesor de su disco debut Tyranny del 2014, definido por Casablancas como un disco de protesta.
Julian Casablancas + The Voidz es una banda que se ha formado en los últimos años a través de diferentes conexiones de música y amigos en NYC y LA. Se unieron por su  amor por la música beat-driven y agresiva, así como de vanguardia, pero con el poder de las armonías modernas para un resultado pegadizo y poderoso.
La banda está formada por Jeramy Gritter (también conocido como Beardo) en la guitarra, Amir Yaghmai, virtuoso guitarrista que creció tocando violín para luego escuchar metal, Alex Carapetis en la batería que introduce un nuevo nivel de ritmo a la música rock, Jeff Kite en el teclado, uno de los miembros fundadores y compositor de la banda y Jake Berkovici en bajo.
Banda Invitadas: Rey Pila + Promiseland
La banda integrada por Diego Solórzano, Andrés Velasco, Rodrigo Blanco y Miguel Hernández lanzó al mercado el EP Wall Of Goth el pasado 28 de abril. De este material se desprende el sencillo "How Do You Know?", así como cuatro nuevas canciones firmadas con la disquera Cult Records, propiedad de Julian Casablancas vocalista de The Strokes, quien también funge como productor de este nuevo material.
La historia de la banda se remonta al año 2009 con el lanzamiento de su álbum homónimo co-producido por Diego y Paul Mahajan (TV On the Radio, Liars, Yeah Yeah Yeahs). De dicho disco se desprendieron varios sencillos exitosos como "No Longer Fun" y "No. 114". La banda tocó sin parar por dos años en México y Estados Unidos, presentándose en festivales como Vive Latino, Corona Capital y SXSW donde compartieron escenario con bandas como Interpol, Muse, TV On the Radio y Ariel Pink.
Promise Land es Johann Rashid, último fichaje de Cult Records, su single debut será 'Take Down the House' será lanzado en septiembre.
​Entradas a la venta en Punto Ticket desde el martes 29 de agosto al mediodía.  https://www.puntoticket.com/julian-casablancas
| | | | |
| --- | --- | --- | --- |
| | Precio | Cargo | Precio Final |
| General Preventa 1 |  $32.000 |  $3.800 |  $35.800 |
| General Preventa 2 |  $36.000 |  $4.400 |  $40.400 |
| General |  $40.000 |  $4.800 |  $44.800 |
(Visited 14 times, 1 visits today)