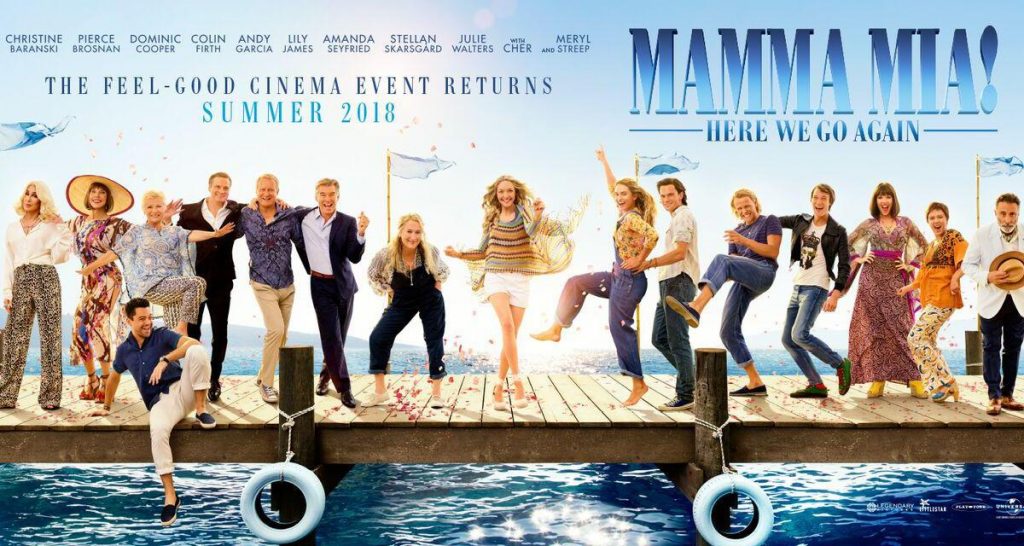 Com lançamento marcado para o dia 13 de julho pela Universal Music Brasil (Polydor Records) a pré-venda já está disponível e vem com faixa "When I Kissed The Teacher" de presente.
Confira:
A Universal Music (Polydor) está contente em anunciar o lançamento da trilha sonora de "MAMMA MIA: Lá Vamos Nós De Novo". A tão aguardada trilha sonora foi produzida por Benny Andersson, do ABBA e está com lançamento marcado para sexta-feira, 13 de julho, com o filme chegando aos cinemas na semana seguinte. A trilha sonora está disponível para download aqui, e presenteia os fãs com o download de "When I Kissed The Teacher", na voz de Lily James a sua banda The Dynamos.
A sequência super aguardada do blockbuster "MAMMA MIA!" será lançado no dia 20 de julho. "MAMMA MIA: Lá Vamos Nós de Novo!" tem Meryl Streep, Amanda Seyfried, Pierce Brosnan, Colin Firth, Stellan Skarsgård, Julie Walters, Dominic Cooper e Christine Baranski retornando ao elenco de sucesso de "MAMMA MIA!" e recebe os talentos de Lily James e Cher para a continuação. Alexa Davies, Josh Dylan, Andy Garcia, Jeremy Irvine, Hugh Skinner e Jessica Keenan Wynn completam o elenco.
Assista ao trailer de "MAMMA MIA: LÁ VAMOS NÓS DE NOVO!":
"MAMMA MIA!", lançado em 2008, também com músicas da carreira do ABBA, é um dos músicais mais bem-sucedidos de todos os tempos. A trilha sonora vendeu mais de 1.5 milhões de cópias ajustadas no Reino Unido e alcançou mais de 7.7 milhões de cópias ajustadas no mundo todo. Quase uma década após seu lançamento, a popularidade do filme não diminuiu. Já foram mais 406 milhões de streams da trilha sonora de MAMMA MIA! A banda ABBA é uma das mais famosas e importantes na história da música e cultura pop. O quarteto sueco vendeu mais de 385 milhões de álbum mundialmente e suas músicas foram executadas mais de 2.8 bilhões de vezes.
O lançamento de MAMMA MIA! Ajudou a aumentar as vendas das músicas do ABBA, e levou a coletânea "ABBA Gold" de volta a primeira posição das paradas musicais 16 anos após o lançamento original.
(Visited 5 times, 1 visits today)