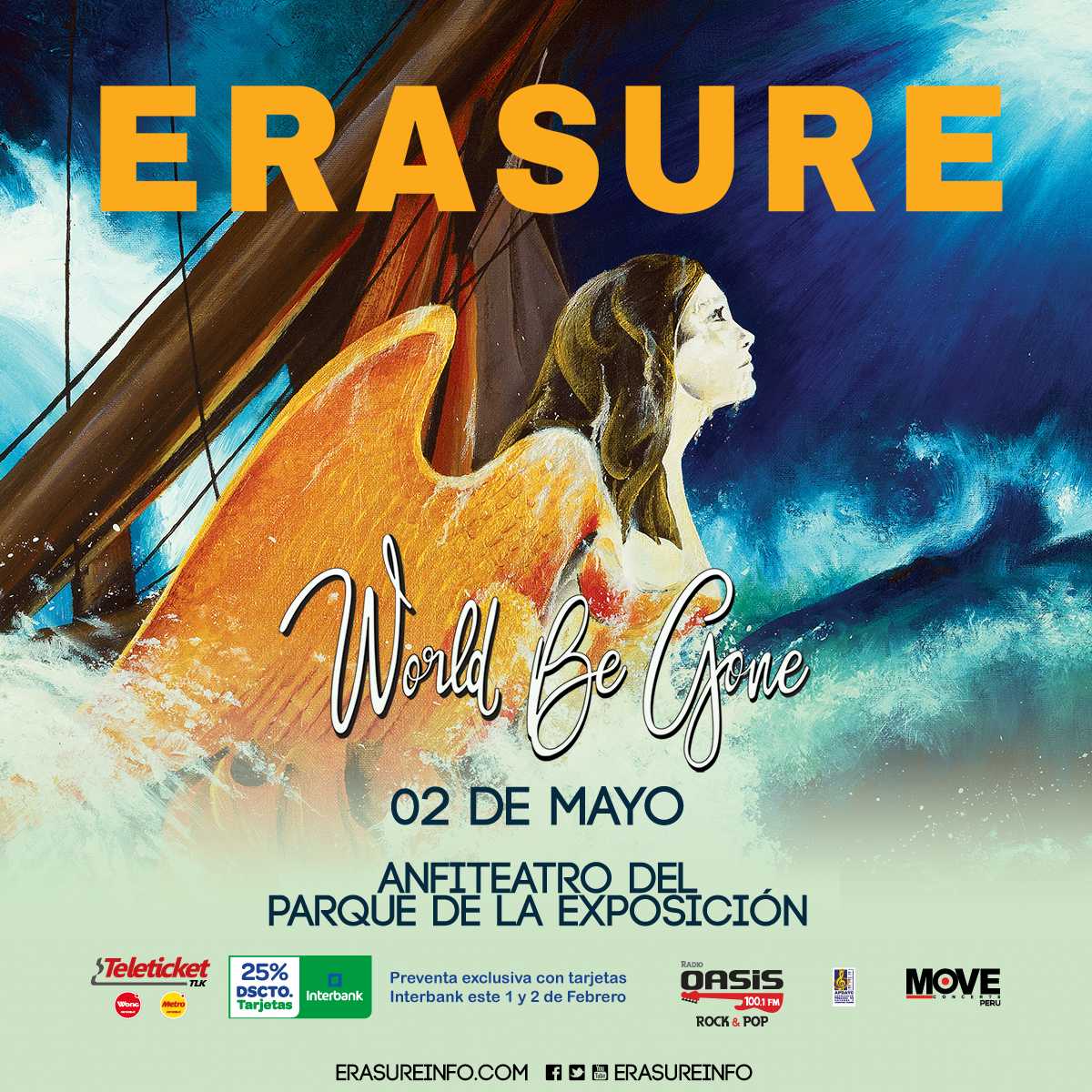 ERASURE llega a Sudamérica con 'World Be Gone', uno de los discos más interesantes de su carrera. Los británicos, considerados  como uno de los grupos más populares de la música dance se presentarán el 2 de mayo en el Anfiteatro del Parque de la Exposición. Preventa de entradas para clientes Interbank desde el 01 de febrero y venta general desde el 03 de febrero en Teleticket de Wong y Metro
El icónico dúo conformado por el compositor y tecladista Vince Clarke y el cantante y letrista Andy Bell, ganadores de los premios BRIT, sorprendieron en mayo del año pasado con  'World Be Gone', el cual ingresó a la lista de álbumes oficiales del Reino Unido en el n.° 6, recibiendo las mejores críticas de la prensa especializada.
Con 30 años de carrera y más de 25 millones de discos vendidos, Erasure ha grabado más de 200 canciones y es uno de los grupos en la historia del tecno pop de mayor éxito en el mundo. Es así que Lima bailará himnos del pop como "A Little Respect", "Chains of Love", "Love to Hate You", "Always", "Stop!", "Oh L'Amour" y más.
A lo largo de estas últimas décadas, Erasure sigue siendo el mejor exponente en una tendencia sonora (tecno, new wave electrónico, synth pop y tecno pop) que continúa presente en la escena del pop/rock clásico y elegante, llevando su carrera a lo más alto del género.
Las entradas para este concierto se venderán en Teleticket de Wong y Metro. Habrá una preventa exclusiva con tarjetas Interbank el 01 y 02 de febrero y la venta general iniciará el 03 de febrero. Las entradas contarán con un 25% de descuento con tarjetas Interbank.
Precios:
VIP: s/ 300
Preferencial: s/ 160
General s/ 90
*Precios incluyen descuento y comisión de Teleticket
(Visited 13 times, 1 visits today)